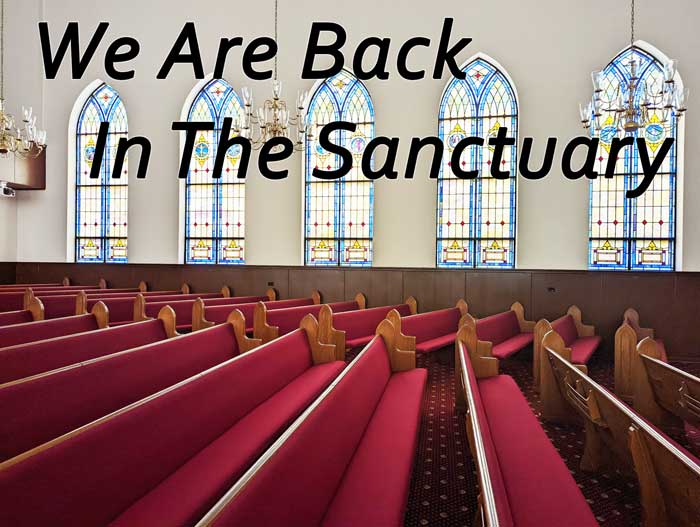 Join us this Sunday for a Back in the
Sanctuary Celebration Service
July 3, 2022
9:45 Sunday School
11:00 Morning Worship
12:00 Lunch in the Fellowship Hall
No evening worship.

Reach out to members who haven't been in a
while and invite them.
HELP US START COLLECTING NOW
To prepare for Operation Christmas Child, we are going to start gathering items throughout the summer through November This will help us focus each month on specific items and keep us from collecting everything at once. A box will be located in the front of the sanctuary and outside Nikki's office.
JUNE AND JULY ITEMS
Washcloths, Flip-flops, Ball caps for boys, Socks
MID-WEEK DEVOTION
Don't forget to check out Brother David's Mid-Week Devotion in the book of Psalms. They are uploaded each Wednesday on the sermon page.
Budget for 2022 . . . . . . . . $322,471.00
Tithes Needed to Date . . . . $161,235.62
Received to Date . . . . . . . . $130,778.72
Needed for weekly budget . . . $6,201.37
Tithes Received this week . . . $8,432.48
From OUr Pastor
This Sunday is the day! We return to our sanctuary for worship! I know that we have all eagerly awaited that day.
I want to thank the Building and Grounds Committee for all of their hard work. They have had months of study, shopping, and overseeing. They have had many challenges but have persevered through all of them. They deserve our thanks.
We plan for this to be a special day for our fellowship. The worship service will be a time of thanksgiving and praise. Afterward, we will have a fellowship meal prepared by the Hostess Committee. It has been months since we have eaten together as a church! Please plan to participate in this special day.
Returning to the sanctuary should also serve as a time of recommitting ourselves to the Lord. We find a beautiful example of this in 2 Chronicles 29. Hezekiah comes to the throne and begins leading the nation back to God. He began his reforms by cleansing the temple for worship. When the temple was cleansed, Judah had a special time of worship. This worship gives some practical guidance for us as we begin this new period in our fellowship.
What did Hezekiah and Judah do in their worship? They first dealt with their sins. Verses 20-24 speak of the sin offerings and the purging of the altar by blood. Judah needed to deal with their sins in order to worship.
It is the same for us. We need to confess and repent of any sin in our lives. A clean, remodeled sanctuary will not help us meet with God if our hearts are dirty.
We next see their focus in worship. Verses 28-30 speak of the music, the singing, and the joy. These verses also include the action of bowing down (verses 29 and 30). All the music and singing were directed to the Lord. The whole focus was on God. No doubt the music and singing were beautiful, but God was the focus.
We must keep the same priority. The sanctuary is beautiful. The music will be wonderful (as it always is!). We pray the message will be clear. But, God must be the focus through all of those.
Judah also gave thanks. Verses 31-35 record the thank offerings. Hezekiah and Judah knew they had been blessed by the Lord. The giving of thanks was an important part of their returning to worship at the temple.
How thankful we should be about returning to the sanctuary. God has given us a wonderful place to meet with Him. He has given us the means and opportunity to remodel the sanctuary for many more years of worship. He has given us a dedicated committee to plan and oversee the remodeling. We have so many reasons to give thanks.

Sunday, July 3
Deacon of the Week: Dan Raines
Deacon Greeters
Front Door: Dan Raines
Organ Greeter: Carl Hobbs
Piano Greeter: Dwane Lewis
Sound: Daniel West
Video: Julie West
Nursery Workers
Charnelle Reinhardt & June Whiddon
Sunday, July 10
Deacon of the Week: Carl Hobbs
Deacon Greeters
Front Door: Carl Hobbs
Organ Greeter: Allen Whitehead
Piano Greeter: W. Greg Brown
Sound: Carl Hobbs
Video: Sue Mastrario
Nursery Worker
Sue Mastrario & Jane Smith