A Brief Look at our Church History
August 25, 1889
Towering pines created a perfect setting for the operation of J. S. Betts Company in the small town of Marion, Georgia, later called Ashburn. It was there under the mill shed, before a single tree had been milled, that a group of Christian people met and organized a Baptist church. Elders B. A. Bacon, O. V. Fuller, and J. T. Lee formed the presbytery of First Baptist Church of Ashburn. The nine charter members were Mrs. Z. J. Cowan, Mrs. Flotilla Calhoun, Rev. B. R. Graham, W. J. Williams, Mr. and Mrs. J.D. Wyre, C. T. Williams, Georgia Pate, and Mary E. Williams. They worshiped in a schoolhouse until a church could be erected. In due time, a building was completed.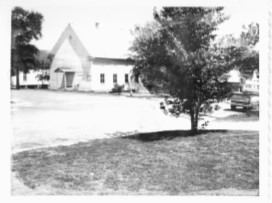 1891-1903
On March 14, 1891, the building committee reported that funds were available to start the construction of the first building erected for the congregation of First Baptist Church. The building was located on the corner of Madison Avenue and Gordon Street. Mr. and Mrs. W.W. Ashburn donated the property on the which the building was erected. No records are available on the exact date of completion of the new building; however, church conference records from August 1891 state the "church held a meeting of few days, received for baptism 22, four by letter." After the congregation relocated to the new location, the building was sold to the Wesleyan Church
January 1903
On May 9, 1902, the first material was placed on the new lot located on McLendon Street. Then on January 11, 1903, the church relocated to the larger house of worship. This new sanctuary cost $4,000.
June 1956-Present
In June 1956, the church dedicated the new sanctuary. Later in August 1973, the Fellowship Hall and Educational Building were dedicated. In 1991, the church purchased property on Rainey Street for future needs. Eight years later, in November 1999, the church simultaneously dedicated the renovation of the pulpit and choir areas and a concert grand piano to the glory of God.
On May 30, 2004, after several months of work, First Baptist Church held a ribbon cutting for the new Family Ministry Building, which is located across from the church on McLendon Street. In September 2005, the church made major renovations to the church kitchen and Sunday school rooms in the Education Building.
In January 2007, First Baptist Church was blessed with the donation of a new Rodgers three manual organ, a complete video system, and upgrades to the audio system in the sanctuary.
Throughout 2008-2009, several renovations have been made to update the church facilities. Extensive work has been completed to update the Prayer Room, library and several Sunday school rooms. In addition, a new media system has been installed in our Fellowship Hall.