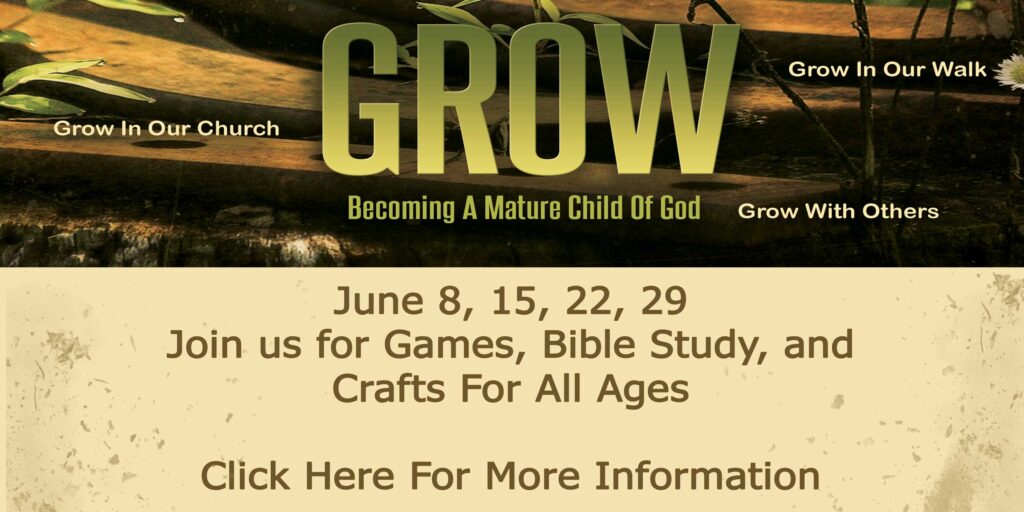 JOIN US ON WEDNESDAY NIGHT FOR GROW. EACH NIGHT WE WILL HAVE SUPPER AND ACTIVITIES FOR ALL AGES.
THIS WEEK'S GUEST SPEAKER: Aaron Moore
WE ARE MEETING IN FAMILY MINISTRY BUILDING. LOOK FORWARD TO SEEING YOU THERE.
---
Mark Your Calendar
We will be back in the sanctuary on July 3, 2022. Make plans to join us for worship and stay for lunch following the service. We will have no evening worship that Sunday.
HELP US START COLLECTING NOW
To prepare for Operation Christmas Child, we are going to start gathering items throughout the summer through November  This will help us focus each month on specific items and keep us from collecting everything at once. A box will be located in the front of the sanctuary and outside Nikki's office.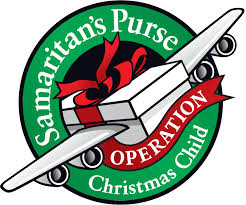 JUNE AND JULY ITEMS
washcloths
flip-flops
ball caps for boys
socks
MID-WEEK DEVOTION
Don't forget to check out Brother David's Mid-Week Devotion in the book of Psalms. They are uploaded each Wednesday on the sermon page.
Budget for 2022 . . . . . . . .  $322,471.00
Tithes Needed to Date . . . . $155,034.25
Received to Date . . . . . . . . $122,346.24
Needed for weekly budget . . . $6,201.37
Tithes Received this week . . .  $1,410.00
From our Family and Music Minister
This past Sunday, we sang one of my favorite songs during worship and I was just singing through a part of the first verse.
In Christ alone, my hope is found. He is my light, 
my strength, my song.
This cornerstone, this solid ground, Firm through the 
fiercest drought and storm.
It's incredible to me how much theology you can get from the lyrics of a song. As you worship through singing each week, I hope you are not just singing lyrics to a familiar tune, but that you genuinely mean what you are singing from your heart…that Jesus is truly your cornerstone.
What is a cornerstone? The cornerstone is the first stone set in constructing a masonry foundation. All other stones will be placed in reference to this stone, thus determining the position of the entire structure. Therefore, when you sing about Jesus being your cornerstone or foundation, you are saying your whole life revolves around Jesus. Even though it is just a simple statement that I am sure you have heard many times, how often do you honestly apply this concept to your life?
When you set the priorities for the week for you and your families, do you focus on Christ first? Likewise, do your opinions have a Biblical basis when expressing your views on current cultural affairs? If Christ is indeed what you base your life on, your daily focus always contains Him. This is because you depend on your relationship with Him for your true source of happiness and fulfillment. This is important, and the song's second line tells us why.
"Firm through the fiercest drought and storm."
Life is going to be full of trials and storms. They will come in many various forms and times. The only way to remain standing through these trials is by having your life built on a solid foundation. If you have a weak foundation of faith, you will not be left standing when the storms of life hit. Christ will always remain firm in your life no matter what drought or storm comes your way.
Everything I reminded you of in my article does not come across as anything new to any of you. But I genuinely hope you will self-evaluate and truly see how well you are doing. Not how well you were doing a year ago or how well you will do in the future, but how well you are doing at keeping Christ in the center now. I am sure most of us have known what a STOP sign means from a very young age and the consequences of ignoring the sign. But how many times when we are in a hurry, do we only half obey what it tells us? I challenge you to keep Christ as your solid foundation and not let Him become a crumbling foundation in your life that can easily break when too much pressure is applied. 

Sunday, June 26
Deacon of the Week: Allen Whitehead
Deacon Greeters
Front Door: Allen Whitehead
Organ Greeter: David Flake
Piano Greeter: Carl Hobbs
Sound: Daniel West
Video: Julie West
Nursery Workers
Sandra Ellis & Rachel Flake
Sunday, July 3
Deacon of the Week: Dan Raines
Deacon Greeters
Front Door: Dan Raines
Organ Greeter: Carl Hobbs
Piano Greeter: Dwane Lewis
Sound: Daniel West
Video:  Julie West
Nursery Worker
Charnelle Reinhardt & June Whiddon