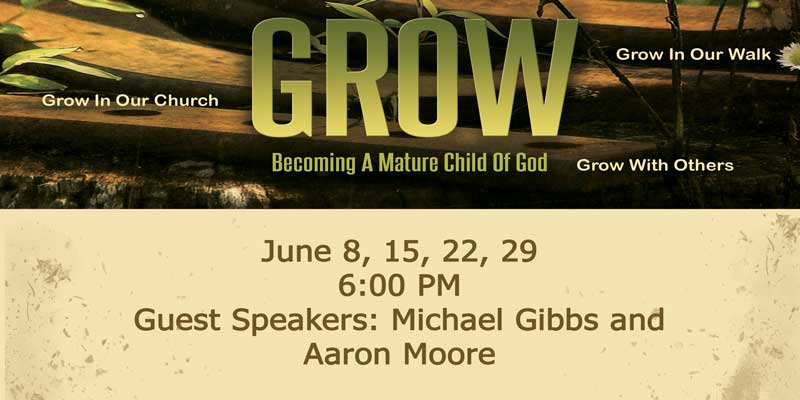 JOIN US ON WEDNESDAY NIGHT FOR GROW. EACH NIGHT WE WILL HAVE SUPPER AND ACTIVITIES FOR ALL AGES.
This week's Guest Speaker: Michael Gibbs
We are meeting in Family Ministry Building. Look forward to seeing you there.

Help us Start Collecting Now
To prepare for Operation Christmas Child, we are going to start gathering items throughout the summer through November This will help us focus each month on specific items and keep us from collecting everything at once. A box will be located in the front of the sanctuary and outside Nikki's office.
June and July Items
washcloths
flip-flops
ball caps for boys
socks
Budget for 2022 . . . . . . . . $322,471.00
Tithes Needed to Date . . . . $148,832.88
Received to Date . . . . . . . . $120,936.24
Needed for weekly budget . . . $6,201.37
Tithes Received this week . . . $4,569.70
MID-WEEK DEVOTION
Don't forget to check out Brother David's Mid-Week Devotion in the book of Psalms. They are uploaded each Wednesday on the sermon page.
From OUr Pastor
This Sunday is Father's Day. I hope that you use this day to remember and honor the men God has used to bless your life. These could be father figures as well as actual fathers. God has enriched our lives through the influence of these men, and we should express our gratitude.
But let's not forget our Heavenly Father. As grateful as we should be for earthly fathers' blessings, how much more thankful should we be for our Heavenly Father!
Think of all our Father has done. First, He has made a place for us in His family. Through salvation, He not only cleanses us of our sins; He also adopts us as His children. John 1:12 reads, "But as many as received Him, to them He gave the right to become children of God, even to those who believe in His name." Believer, you are an eternally and infinitely loved child of God. We can't even begin to imagine how much our Father loves us! What a blessing!
Next, we should thank God for His wonderful plans for us. He has good plans (Jeremiah 29:11) that are fulfilled through all circumstances (Romans 8:28). What a blessing! Our life is not dependent upon luck or what we can make happen. Our Father uses His sovereign control to bless us.
We also have His provision. Philippians 4:19 says, "And my God will supply all your needs according to His riches in glory in Christ Jesus." Our Father knows our every need and promises to meet them (Matthew 6:25-34). We can confidently ask Him to meet our every need (Matthew 7:7-12). What comfort and confidence our Lord's provision should give us!
Our Father also gives us His protection. In Isaiah 41:10 He says, "Do not fear, for I am with you; do not anxiously look about you, for I am your God. I will strengthen you, surely, I will help you, surely, I will uphold you with My righteous right hand." What a blessing as we live in this fragmenting and increasingly violent society! Our Father is always with us.
Last, we have our Father's pleasures – all those wonderful blessings that He pours into our lives. James 1:17 says, "Every good thing given, and every perfect gift is from above, coming down from the Father of lights, with whom there is no variation or shifting shadow." Think about every good thing in your life. That came from your Father. How we ought to thank Him!
I do hope you remember the special men with whom God has blessed your life. But, even more than those fathers and father figures, I hope you celebrate our Heavenly Father. How He has blessed us!

Sunday, June 19
Deacon of the Week: Dwane Lewis
Deacon Greeters
Front Door: Dwane Lewis
Organ Greeter: Carl Hobbs
Piano Greeter: W. Greg Brown
Sound: Daniel West
Video: Julie West
Nursery Workers
Sami Mastrario & Eilene Perry
Sunday, June 26
Deacon of the Week: Allen Whitehead
Deacon Greeters
Front Door: Allen Whitehead
Organ Greeter: David Flake
Piano Greeter: Carl Hobbs
Sound: Daniel West
Video: Julie West
Nursery Worker
Sandra Ellis & Rachel Flake