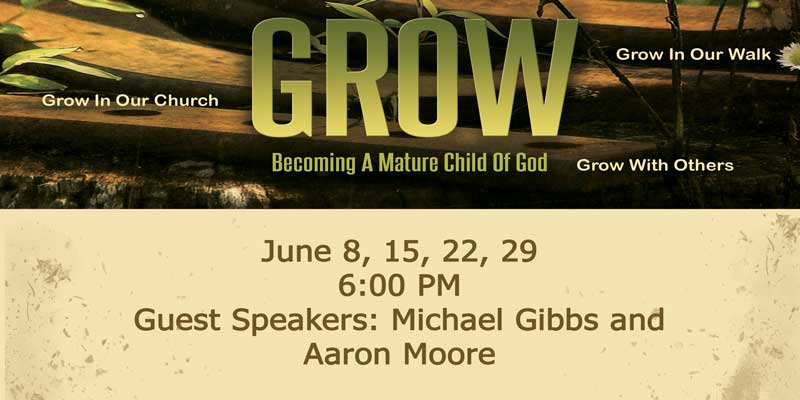 JOIN US ON WEDNESDAY NIGHT FOR GROW. EACH NIGHT WE WILL HAVE SUPPER AND ACTIVITIES FOR ALL AGES. CHECK OUT OUR WEEKLY SCHEDULE FOR MORE DETAILS.
SCHEDULE FOR JUNE 8
5:00 PM Laser Tag (Youth and Children and those young at heart. Meet in the main building.)
6:00 PM Supper (In Family Ministry Building)
6:20 PM Bible Study (Adult Speaker Michael Gibbs)
Schedule For June 15
6:00 PM Supper (In Family Ministry Building)
6:20 PM Bible Study (Adult Speaker Michael Gibbs)
7:00 PM Biblical Escape Room
MID-WEEK DEVOTION
Don't forget to check out Brother David's Mid-Week Devotion in the book of Psalms. They are uploaded each Wednesday on the sermon page.
Budget for 2022 . . . . . . . .  $322,471.00
Tithes Needed to Date . . . . $142,631.51
Received to Date . . . . . . . . $116,366.54
Needed for weekly budget . . . $6,201.37
Tithes Received this week . . .  $6,127.09
From our Family and Music Minister
On a late afternoon, Eilene and I came home to see my dad standing at the back of a pickup truck with a load of trash bags. As we got out of the car and walked up to him, the overwhelming smell of chili and hamburgers filled the air. My dad was going through the lunch trash from Pat's Place, a local restaurant, because my mother couldn't find her keys, and that was the last place she remembered she had them. It was true. When she dumped her tray, she tossed her keys. (I have no proof, but I assume it was because she was talking to someone.)
I know without a doubt that my mother was happy when she found her keys, but I also know that even though he probably didn't eat a chili dog for a month, my dad was glad he could help her find what was lost. We all have some sense of accomplishment when we can help someone find something; however, no matter how excited we are, nothing compares to the feeling we get when God uses us to lead someone to Christ.
In John 3, we can read about Nicodemus's encounter with Jesus. Even though Nicodemus was an educated religious leader and wealthy man, he did not truly understand the meaning of being saved. Jesus taught him that only when we allow the Holy Spirit to work in us can we truly find forgiveness for our sin. Salvation does not come from works or our inheritance, it comes through faith alone.
Because Nicodemus did not understand what He was saying, Jesus referenced when Moses raised a serpent on a stick to save the people of Israel from death. Jesus said that the Son of Man would also be raised up to give eternal life to those who believe. God loves His creation so much that He provided a way for the world to be forgiven for their sin.
Just as Jesus taught Nicodemus, we will be judged on what we believe about Jesus and His offer of salvation. Inviting the Holy Spirit to change our lives requires our willingness to admit our sins and ask for them to be forgiven. Then as we grow as believers, we allow God to mold us and transform our minds, attitudes, and thoughts.
Have you been born again? If so, how do you know? Does your life reflect that the Holy Spirit is actively working in your life? We all are born lost, but do we know how to be found?  I pray that we all desire to share with others how to be born again through believing in Christ.

Sunday, June 12
Deacon of the Week: Daniel West
Deacon Greeters
Front Door: Daniel West
Organ Greeter: Dan Raines
Piano Greeter: Allen Whitehead
Sound: Carl Hobbs
Video: Sue Mastrario
Nursery Workers
Dianne Huff & Elizabeth See
Sunday, June 19
Deacon of the Week: Dwane Lewis
Deacon Greeters
Front Door: Dwane Lewis
Organ Greeter: Carl Hobbs
Piano Greeter: W. Greg Brown
Sound: Daniel West
Video: Julie West
Nursery Worker
Sami Mastrario & Eilene Perry