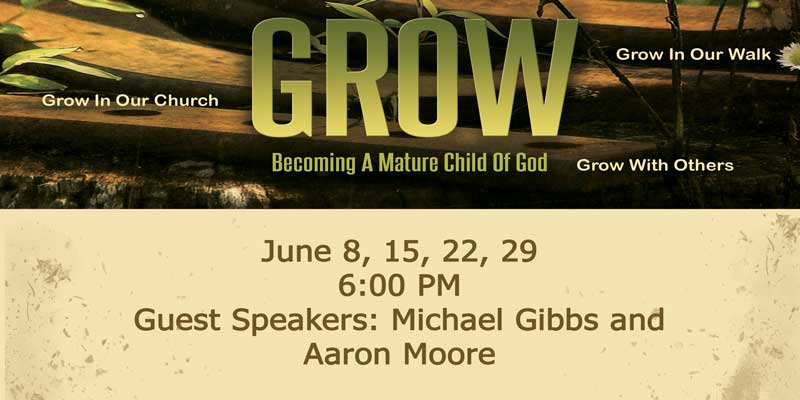 Join us on Wednesday night for GROW. Each night we will have supper and activities for all ages. Check out our weekly schedule for more details.
Schedule for June 8
5:00 PM Laser Tag (Youth and Children and those young at heart. Meet in the main building.)
6:00 PM Supper (In Family Ministry Building)
6:20 PM Bible Study (Adult Speaker Michael Gibbs)
Giving as of May 31, 2022
Budget for 2022 . . . . . . . . $322,471.00
Tithes Needed to Date . . . . $136,430.14
Received to Date . . . . . . . . $110,239.45
Needed for weekly budget . . . $6,201.37
Tithes Received this week . . . $3,461.25
MID-WEEK DEVOTION
Don't forget to check out Brother David's Mid-Week Devotion in the book of Psalms. They are uploaded each Wednesday on the sermon page.
From OUr Pastor
What do we need to experience God working in our lives? I'm sure that each of us is needing God in a particular area of our life. We may need guidance, strength, encouragement, or a miraculous solving of some problem. How can we experience that?
Our Lord gives us a powerful answer in Matthew 9:10-13. In this passage, the Pharisees were criticizing the Lord for eating with tax collectors and sinners (verse 11). Our Lord answered by saying "It is not those who are healthy who need a physician, but those who are sick" (verse 12).
Our Lord's answer reveals some essential requirements for experiencing God's work. First, we must know and admit our need. This is especially true in salvation (the direct point of this passage). But it is also true in every type of problem or issue. We must know that we have a need. We seek a doctor only when we acknowledge a need. Even a regular physical exam is an expression of need. We need the doctor to help keep us healthy.
Do you really know that you need the Lord to work on that area of your life? Are you willing to acknowledge that to Him and yourself? Only then will you experience the Lord's working in that area.
Next, are you willing to come to Him for help? To come to the Lord for help is to admit your own helplessness in the situation. That is true in salvation. We can do nothing to earn or deserve salvation. It is humbling to come to the Lord for salvation because we are admitting that we cannot save ourselves. That is why many people reject Christ – they refuse to admit that only He can save them.
This is also true in every part of our lives. We must be humble enough to come to the Lord for help. It is only when we ask that it is given to us (Matthew 7:7).
What about following His instructions? Are you willing to do what He says? The best prescription from the world's most capable doctor will work only if it is taken.
Will you take the prescription for salvation? Will you trust Christ as your Savior? He will save anyone who puts trust in Him. There is no salvation for those who reject the prescription.
If you are saved, what about the other areas of your life? Are you willing to obey? Are you willing to obey in that particular area? Only when you follow His prescription can you experience His work. Only when you follow His prescription can you experience His work.

Sunday, June 5
Deacon of the Week: Carl Hobbs
Deacon Greeters
Front Door: Carl Hobbs
Organ Greeter: Allen Whitehead
Piano Greeter: W. Greg Brown
Sound: Chris McCard
Video: Saskia Van Son
Nursery Workers
Barbara Anne Perry & Jan Winter
Sunday, June 12
Deacon of the Week: Daniel West
Deacon Greeters
Front Door: Daniel West
Organ Greeter: Dan Raines
Piano Greeter: Allen Whitehead
Sound: Carl Hobbs
Video: Sue Mastrario
Nursery Worker
Dianne Huff & Elizabeth See