Flowers in Worship
The beautiful flowers used in our worship service today were given in memory of Charles V Perry by his family.
OCC PACKING PARTY
We will be packing boxes for OCC on Wednesday night, November 3, at 6:00 PM. Come and help us fill church boxes or bring your supplies to make your own. We have extra empty boxes if you need one. Our goal is 100 boxes. Everyone is welcome. This will take the place of Prayer Meeting. We will be meeting in the Family Ministry Building.
---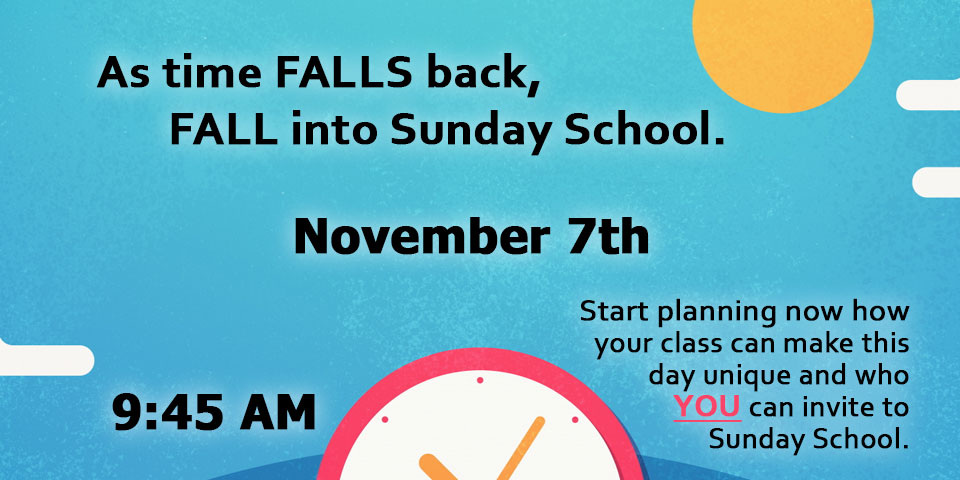 On November 7, we will be emphasizing Sunday School.  Since we will be rolling our clocks back that evening, let's make good use of that extra hour and come to Sunday School.
Start planning NOW.
How Can I Help?
Plan to attend Sunday School yourself.
Invite someone who has never been to Sunday School.
Reach out to someone in your class that has not been recent.
Plan a special event for your class that day or afternoon.
Think of ways you can show your Sunday School teacher appreciation on that day.
HARVEST DAY NOVEMBER 14, 2021
Each year, during our Harvest Banquet,  we take up a special offering as an expression of thanks for God's boundless goodness throughout the year. Unfortunately, we will not have a banquet due to sanctuary remodeling, but we are setting aside November 14 for a special harvest offering. This offering is a special gift above and beyond our regular giving and an excellent opportunity to see God work through the generosity of His people.
MID-WEEK DEVOTION
Don't forget to check out Brother David's Mid-Week Devotion on the book of Psalms. They are uploaded each Wednesday on the sermon page.
Giving as of October 27, 2021
Budget for 2021 . . . . . . . .  $320,880.00
Tithes Needed to Date . . . . $265,339.04
Received to Date . . . . . . . . $207,079.59
Needed for weekly budget . . . $6,170.77
Tithes Received this week . . . $1,969.55
From Our Family and Music Minister
Do you ever have those memories that you wish you could forget? One I wish I could forget was an altercation with a new student at my high school. He was expelled from his previous school for fighting and had only been at Tiftarea for a few weeks. So I can say I didn't start it, but I also let him get to me. As a result, I broke the Gym door, and he and I went to the principal. But fortunately, I was usually well behaved, so the principal told me to watch my temper and sent me on my way.
I was doing ok; I didn't get in trouble, and my parents would not find out. But then, the next day, as I walked down the hall, the maintenance man was working on the gym door. He called me over by using my last name, which I knew meant I was getting a lecture since he usually had a nickname he called me. As I explained what had happened and how it was not my fault, he agreed that he could understand how I got myself in that situation. But his response to me was, "Did that young man see Christ in you?" I'm sure the lecture lasted a few seconds, but it felt like an eternity. His disappointment in me was worse than any punishment I could have received.
As Christians, we are going to face times of temptations, trials, and suffering. The way we handle that suffering is a declaration to the world of what we believe. As Christians, we know that God is all-powerful and all-loving. We understand that this world is only temporary and heaven is forever. When we endure suffering, it shows the world around us that nothing compares to our relationship with our Heavenly Father. The world sees where our faith truly lies.
During Job's trials and tribulations, he may not have been perfect in all that he did. But we do know that he still stayed faithful and true to God. He showed the world that God was more valuable than wealth, health, and even his family. Most of us can't even fathom that type of suffering, and hopefully, we never will. But we can have the assurance that God will always be faithful to us to the end when we spend eternity with him.
James 1:12 states, "Blessed is the man who remains steadfast under trial, for when he has stood the test, he will receive the crown of life, which God has promised to those who love him." The distinguishing characteristic of the one who received the crown of life is the one who was steadfast under trial. Jesus desires us to be faithful, not just during the good times but also through the bad.
In John 16:33, we read that suffering is inevitable. The question is, how will we face it? When Jesus addressed the church of Smyrna in Revelation, Jesus told them to "Be faithful until death, and I will give you the crown of life." The reality for the believers in Smyrna, and even today for believers in other countries, is their suffering may end in death. However, we can take comfort in the fact that suffering is only temporary compared to eternity with our Heavenly father.
When you face times of trial, be like Jesus to those around you. Be a witness to a lost world that may never see Jesus in anyone else. Declare your faith by the way you live in the world today.

Sunday, October 31
Deacon of the Week: David Mathis
Deacon Greeters
Front Door: David Mathis
Organ Greeter: Dan Raines
Piano Greeter: Dwane Lewis
Sound: Daniel West
Video: Elijah Alford
Nursery Workers
Elizabeth See & Saskia Van Son
Sunday, November 7
Deacon of the Week: W. Greg Brown
Deacon Greeters
Front Door: W. Greg Brown
Organ Greeter: Dan Raines
Piano Greeter: Carl Hobbs
Sound: Chris McCard
Video: David Mathis
Nursery Worker
Daisy Lee Speight & Pat Rainey