Harvest Day november 14, 2021
Each year, during our Harvest Banquet, we take up a special offering as an expression of thanks for God's boundless goodness throughout the year. Unfortunately, we will not have a banquet due to sanctuary remodeling, but we are setting aside November 14th for a special harvest offering. This offering is a special gift above and beyond our regular giving and an excellent opportunity to see God work through the generosity of His people.
---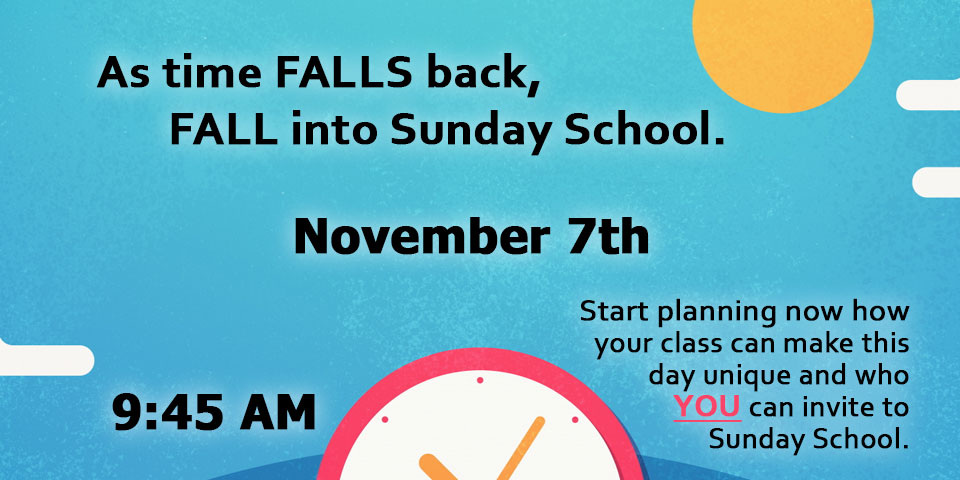 On November 7th, we will be emphasizing Sunday School. Since we will be rolling our clocks back that evening, let's make good use of that extra hour and come to Sunday School.
Start planning NOW.
How Can I Help?
Plan to attend Sunday School yourself.
Invite someone who has never been to Sunday School.
Reach out to someone in your class that has not been recent.
Plan a special event for your class that day or afternoon.
Think of ways you can show your Sunday School teacher appreciation on that day.
OCC packing Party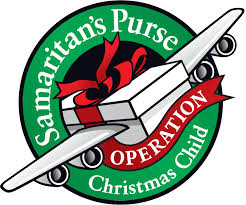 We will be packing boxes for OCC on Wednesday night, Nov 3, at 6:00 PM. Come and help us fill church boxes or bring your supplies to make your own. We have extra empty boxes if you need one. Our goal is 100 boxes.
Giving as of October 20, 2021
Budget for 2021 . . . . . . . . $320,880.00
Tithes Needed to Date . . . . $259,168.27
Received to Date . . . . . . . . $205,109.95
Needed for weekly budget . . . $6,170.77
Tithes Received this week . . . $2,928.64
MID-WEEK DEVOTION
Don't forget to check out Brother David's Mid-Week Devotion on the book of Psalms. They are uploaded each Wednesday on the sermon page.
From Our Pastor
What a difference our Father makes in our lives! We don't have to live in fear and emptiness. We can live in joyful, confident anticipation even in these dark days.
How can God make such a radical difference in our lives? First, He is the purposeful Creator. Isaiah 45:18 records God saying He created the earth to be inhabited. Not only did God create the earth, but He did so with an eternal purpose. "Luck" and "chance" will not determine the immediate future or eternity. God had an eternal plan before He created anything.
Can God fulfill His plan? Yes, because He is the Sovereign Ruler. In verse 22b God said, "…I am God, and there is no other." In verse 23b He said, "…That to Me every knee will bow, every tongue will swear allegiance." The Holy Spirit led Paul to give further explanation when he wrote, "…So that at the name of Jesus every knee will bow, … and that every tongue will confess that Jesus Christ is Lord, to the glory of God the Father" (Philippians 2:10-11). Our Lord reigns. He is in complete control.
We can also have confidence because God has revealed Himself, His ways and His plans. Verse 19 says, "I have not spoken in secret, in some dark land; I did not say to the offspring of Jacob, 'Seek Me in a waste place;' I, the Lord, speak righteousness, declaring things that are upright." While we cannot fully comprehend God's prophetic plan on this side of eternity, we can know that God is sovereign and that everything we see around us is moving toward His wonderful, planned, assured victory. He has made that clear.
God's invitation to salvation is by its nature an invitation to security and confidence. In verse 20 God issues His invitation, "Gather yourselves and come; draw together, you fugitives of the nations…" In verse 22 He says, "Turn to Me and be saved, all the ends of the earth; For I am God, and there is no other." God invites us to be justified (verse 25) and adopted as His children. Heeding His invitation brings us into the security of His love. In fact, verse 22 was the text that was preached when Charles Spurgeon was born again!
Finally, the wonderful goodness of God in our lives enables us to live in joyful confidence. Verse 25 says, "In the Lord all the offspring of Israel will be justified and will glory." The idea behind glory is to praise and to rejoice. The word is actually related to "hallelujah". God's goodness leads us to rejoice and praise Him – even in days like these.
Believer, turn your eyes toward our Father. In Him is every reason for joyful confidence.

Sunday, October 24
Deacon of the Week: Daniel West
Deacon Greeters
Front Door:
Organ Greeter: Tony McCard
Piano Greeter: Daniel West
Sound: Daniel West
Video: Julie West
Nursery Workers
Charnelle Reinhardt & June Whiddon
Sunday, October 31
Deacon of the Week: David Mathis
Deacon Greeters
Front Door: David Mathis
Organ Greeter: Dan Raines
Piano Greeter: Dwane Lewis
Sound: Daniel West
Video: Elijah Alford
Nursery Worker
Elizabeth See & Saskia Van Son