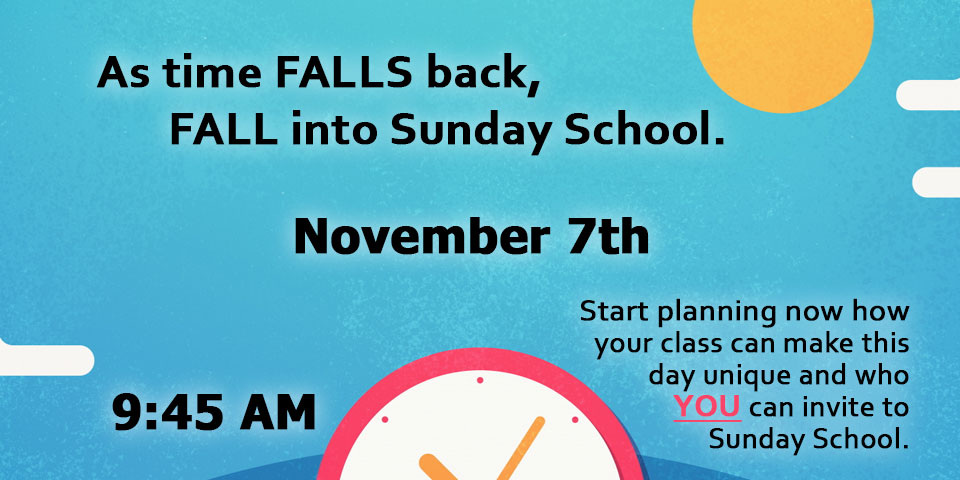 On November 7th, we will be emphasizing Sunday School.  Since we will be rolling our clocks back that evening, let's make good use of that extra hour and come to Sunday School.
Start planning NOW.
How Can I Help?
Plan to attend Sunday School yourself.
Invite someone who has never been to Sunday School.
Reach out to someone in your class that has not been recent.
Plan a special event for your class that day or afternoon.
Think of ways you can show your Sunday School teacher appreciation on that day.
MID-WEEK DEVOTION
Don't forget to check out Brother David's Mid-Week Devotion on the book of Psalms. They are uploaded each Wednesday on the sermon page.
Budget for 2021 . . . . . . . . $320,880.00
Tithes Needed to Date . . . . $252,997.50
Received to Date . . . . . . . . $202,181.31
Needed for weekly budget . . . $6,170.77
Tithes Received this week . . . $4,065.70
State Missions $560.00
From our Family and Music Minister
Over the years, I have written many times about the adventures my Mother would get me into; however, she usually had admirable intentions. A lady that my Mother knew from Cordele had stopped by her store to shop and, more importantly, sit and talk for a few hours. In the conversation, the lady complained, as most mothers do at some point, that her children would not help her do anything around her apartment. Since this lady was up in age, my Mom asked her what she needed help doing. She needed her freezer defrosted and cleaned out. My Mother told her to go home and unplug it before she went to bed, and we would be there the next day to help her.
As anyone knows who has stored vegetables in freezer bags, the bags take the shape of the freezer, especially if this freezer has thawed out and refrozen a few times. So we figured out that she had her freezer plugged into an outlet controlled by a light switch, which made her freezer one big block of ice. So as I worked on getting the freezer cleaned out, no less than twice, the lady flipped the freezer back on, which somehow then "electrocuted" me. So even though my Mom dealt with my bad attitude and impossible task, the freezer got cleaned out. My Mother instilled in me that we do things for others out of genuine care and love, even if we aren't getting anything in return.
Love thy neighbor is a dominant theme that we see throughout scripture. As John wrote in the book of Revelation, Jesus condemned some of the churches for losing their love for others. For example, the rich young ruler loved his money more than giving up what he had for the poor. Even when reading through the book of 1 Corinthians, we see that the church of Corinth had lost its love for people. It is tragic when a church or individual loses love for one another or the people around them, especially when love is a dominant trait God wants us to possess as Christians.
In 1 Corinthians 13:1, Paul writes, "If I speak in the tongues of men and of angels, but have not love, I am a noisy gong or a clanging cymbal." When I first read this, I couldn't help but think of the reality shows where people perform, and the judges "buzz" them for their lack of talent. Paul says that even if you are blessed with spreading the Gospel to others in their native tongue, if you don't love them, you are no better than annoying sound. Unfortunately, many people proclaim the message of God but lack genuine love for the individuals they are reaching. Like the performers who think they are genuinely talented and get "buzzed" due to their lack of abilities, we need to make sure that we are not just a loud gong proclaiming to be a Christian. When we declare Christ with our mouth, our hearts should reflect the love of Christ also.
If you continue to read the passage in 1 Corinthians, Paul states that even if we are willing to give up our lives for Christ, but do not have love, we lost our lives for nothing. Love is more than something we say; love is an action. People know we love others by the way we treat them, and as representatives for Christ, we should radiate love. Love is giving up a Saturday cleaning out a freezer for no reason other than that you genuinely care for the well-being of someone else. Love is also sharing Christ with a relative or friend, even if it makes you uncomfortable because you love them enough that you want them to know the saving grace of Jesus. As a Christian, be intentional in showing the love to others that Christ has shown you.

Sunday, October 17
Deacon of the Week: Allen Whitehead
Deacon Greeters
Front Door: Allen Whitehead
Organ Greeter: Dwane Lewis
Piano Greeter: Dan Raines
Sound: Daniel West
Video: Julie West
Nursery Workers
Rachel Flake & Sandra Ellis
Sunday, October 24
Deacon of the Week: Tom LaRocca
Deacon Greeters
Front Door: Tom LaRocca
Organ Greeter: Tony McCard
Piano Greeter: Daniel West
Sound: Daniel West
Video: Julie West
Nursery Worker
Charnelle Reinhardt & June Whiddon