OCC PACKING PARTY Tonight
We will be packing boxes for OCC this Wednesday night, November 3, at 6:00 PM. Come and help us fill church boxes or bring your supplies to make your own. We have extra empty boxes if you need one. Our goal is 100 boxes. Everyone is welcome. This will take the place instead of Prayer Meeting. We will be meeting in the Family Ministry Building.
---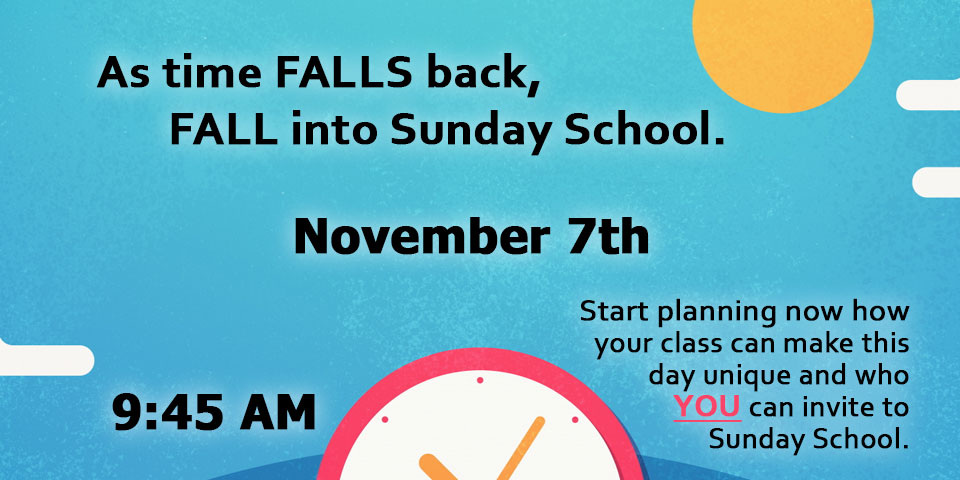 This Sunday, November 7, we will be emphasizing Sunday School. Since we will be rolling our clocks back that evening, let's make good use of that extra hour and come to Sunday School.
How Can I Help?
Plan to attend Sunday School yourself.
Invite someone who has never been to Sunday School.
Reach out to someone in your class that has not been recent.
Plan a special event for your class that day or afternoon.
Think of ways you can show your Sunday School teacher appreciation on that day.
HARVEST DAY NOVEMBER 14, 2021
Each year, during our Harvest Banquet, we take up a special offering as an expression of thanks for God's boundless goodness throughout the year. Unfortunately, we will not have a banquet due to sanctuary remodeling, but we are setting aside November 14 for a special harvest offering. This offering is a special gift above and beyond our regular giving and an excellent opportunity to see God work through the generosity of His people.
OCC Relay Center
If you would like to volunteer to work in the Operation Christmas Child Realy center please contact Jonathan. The times are listed below.
| | |
| --- | --- |
| Monday, November 15, 2021 | 5:00 PM – 7:00 PM |
| Tuesday, November 16, 2021 | 11:00 AM – 1:00 PM |
| Wednesday, November 17, 2021 | 5:00 PM – 7:00 PM |
| Thursday, November 18, 2021 | 11:00 AM – 1:00 PM |
| Friday, November 19, 2021 | 4:00 PM – 6:00 PM |
| Saturday, November 20, 2021 | 11:00 AM – 1:00 PM |
| Sunday, November 21, 2021 | 3:00 PM – 5:00 PM |
| Monday, November 22, 2021 | 10:00 AM – 12:00 Noon |
MID-WEEK DEVOTION
Don't forget to check out Brother David's Mid-Week Devotion on the book of Psalms. They are uploaded each Wednesday on the sermon page.
Budget for 2021 . . . . . . . . $320,880.00
Tithes Needed to Date . . . . $271,509.81
Received to Date . . . . . . . . $211,999.09
Needed for weekly budget . . . $6,170.77
Tithes Received this week . . . $4,919.50
From Our Pastor
Child of God, rejoice! What a wonderful God we have! We should overflow with praise when we think of all our Lord has done, is doing and will do for us.
We are reminded of God's wonderful works for us when we read Isaiah 55. There is no way for us to read this passage without excitement, joy, praise, and thanksgiving.
Isaiah first reminds us of the fullness that God will give us in our lives. The Lord says, "Ho! Everyone who thirsts, come to the waters; and you who have no money come, buy, and eat. Come, buy wine and milk without money and without cost…Listen carefully to Me, and eat what is good, and delight yourself in abundance" (verses 1, 2b). God will fill our souls and overfill our souls. He alone can do this, (v. 2a) and He does it beyond measure. Praise Him!
Of course, for this fullness to be experienced our sin must be cleansed. God has made an incredible salvation through His Son and invites us to that salvation. Verses 6-7, "Seek the Lord while He may be found; call upon Him while He is near. Let the wicked forsake his way and the unrighteous man his thoughts; and let him return to the Lord, and He will have compassion on him, and to our God, for He will abundantly pardon." Praise the Lord! He has dealt with all our sins and sinfulness! He has made us right with Himself and has made us His children. How He has blessed us!
The Lord also fills our life with joy. Verse 12 says, "For you will go out with joy and be led forth with peace; the mountains and the hills will break forth into shouts of joy before you, and all the trees of the field will clap their hands." The world promises "happiness" and never produces it. Our Lord gives us joy in spite of our circumstances. How wonderful He is!
Last, Isaiah reminds us of God's eternal plans and promises for us. Verse 13 says, "Instead of the thorn bush the cypress will come up, and instead of the nettle the myrtle will come up, and it will be a memorial to the Lord, for an everlasting sign which will not be cut off." God has plans to bless eternally His people. He has wonderful plans for Israel and for the church. Think of being in the presence of the Lord in the place He has prepared for us. What a future awaits us! Praise the Lord for such wonderful plans! What an awesome God we have!
Isn't our Lord wonderful? Think of all He has done, is doing and will do. Rejoice! You are blessed.

Sunday, November 7
Deacon of the Week: W. Greg Brown
Deacon Greeters
Front Door: W. Greg Brown
Organ Greeter: Dan Raines
Piano Greeter: Carl Hobbs
Sound: Chris McCard
Video: David Mathis
Nursery Workers
Daisy Lee Speight & Pat Rainey
Sunday, November 14
Deacon of the Week: David Flake
Deacon Greeters
Front Door: David Flake
Organ Greeter: Dwane Lewis
Piano Greeter: Daniel West
Sound: Carl Hobbs
Video: Sue Mastrario
Nursery Worker
Shelley McRae & Dianne Huff