New Deacons
The seven gentlemen who have been nominated in the deacon election are W. Greg Brown, David Flake, Carl Hobbs, Tony McCard, Shawn McRae, Daniel West, and Allen Whitehead. The congregation will vote on these nominees during the conference on Sunday, September 19, 2021.
Prayer Meeting
Prayer Meeting will begin this Wednesday, at 6:00 PM in the Fellowship Hall.
Sanctuary remodeling
Due to the remodeling of the sanctuary, all worship services will be held in the fellowship hall. Reminder you can park on the Rainey Street lot to be closer to an entrance.
---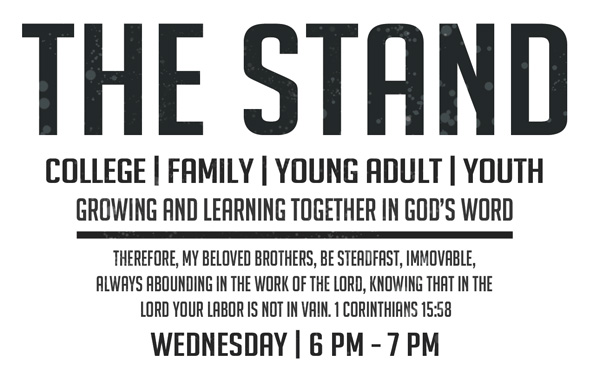 The Stand Begins Sept 22, 2021
---
Prayer guides for Mission Georgia are
located on the round table in the fellowship hall.
NEW ITEM TO COLLECT THIS MONTH FOR OPERATION CHRISTMAS CHILD
Our goal this year is to make 100 boxes. Would you please help us reach this goal by helping us gather supplies for the boxes? For September, we will be collecting Toys, Flip Flops, and Socks. A box will be located in the front of the sanctuary and outside Nikki's office.
MID-WEEK DEVOTION
Don't forget to check out Brother David's Mid-Week Devotion on the book of Psalms. They are uploaded each Wednesday on the sermon page.
From OUr Pastor
Have you ever felt overwhelmed? You may feel that way now! It is understandable. We live in very confusing, complicated, and uncertain times. Personal problems and concerns add to the burden. Where can we find the strength that we need to face these things?
There is a source of never-ending strength. That source is our Lord. He strengthens and enables His children when they trust Him. In Isaiah 40:31, our Lord promised, "Yet those who wait for the Lord will gain new strength; they will mount up with wings like eagles, they will run and not get tired, they will walk and not become weary." If we wait upon the Lord (put our trust and confidence in Him), He will strengthen us. God will give us the strength we need for all that we face.
What makes God so trustworthy? Why should we put our confidence in Him? The first reason is God's loving care for us. Isaiah 40:1 reads, "Comfort, O comfort My people," says your God. Verse 11 says, "Like a shepherd He will tend His flock, in His arm He will gather the lambs and carry them in His bosom; He will gently lead the nursing ewes."
What care God has for His children! How can we not trust one whose sole desire is to comfort, nourish, carry, and lead us? His loving care for us enables us to trust Him.
Next, we see God's power. It's great that God loves us and wants to bless us. But can He do it? Verse 12 reads, "Who has measured the waters in the hollow of His hand, and marked off the heavens by the span, and calculated the dust of the earth by the measure and weighed the mountains in a balance and the hills in a pair of scales." Verse 22 adds, "It is who sits above the circle of the earth, and its inhabitants are like grasshoppers, who stretches out the heavens like a curtain and spreads them out like a tent to dwell in." What is beyond the power of such a God? Nothing! God is unlimited in His power and can do everything His loving concern wants done for us.
What about God's plans? Does He know what He is doing? It's great that God loves us and has the power to do what He wants done, but does He know what is the best thing for us? Verses 13-14 say, "Who has directed the Spirit of the Lord, or as His counselor has informed Him? With whom did He consult and give understanding? And who taught Him in the path of justice and taught Him knowledge and informed Him of the way of understanding?" God is perfect in His wisdom. That means that He knows the best way to do the best thing in the best times. We can trust God because His plans are what is best for our lives.
I once had a friend who said, "God's plans for your life and what will make you the happiest are one and the same." Amen! We can trust God because His plans are perfect.
Life is often difficult, and these are confusing times. However, in our Lord we have a never-failing source of strength. If we trust Him, He will carry us.

Sunday, September 12
Deacon of the Week: Dwane Lewis
Deacon Greeters
Front Door: Dwane Lewis
Organ Greeter: David Mathis
Piano Greeter: Tom LaRocca
Sound: Carl Hobbs
Video: Sue Mastrario
Nursery Workers
Daisy Lee Speight & Pat Rainey
Sunday, September 19
Deacon of the Week: Dan Raines
Deacon Greeters
Front Door: Dan Raines
Organ Greeter: Allen Whitehead
Piano Greeter: David Flake
Sound: Daniel West
Video: Julie West
Nursery Worker
Elizabeth See & Peggy Black