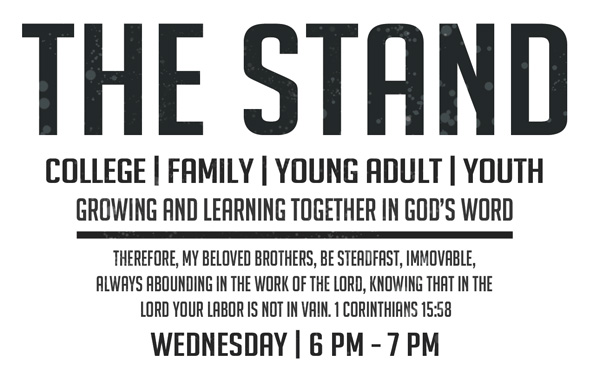 The Stand Begins September 22, 2021 in the
family MInstry BUilding.
---
Through your support of Misson Georgia, you will help provide gospel-centered
care to every Georgia community through your church.
Church Goal: $1500.00
NEW DEACONS
The seven gentlemen who have been nominated in the deacon election are W. Greg Brown, David Flake, Carl Hobbs, Tony McCard, Shawn McRae, Daniel West, and Allen Whitehead. The congregation will vote on these nominees during the conference on Sunday, September 19, 2021.
PRAYER MEETING
Prayer Meeting will begin this Wednesday, at 6:00 PM in the Fellowship Hall.
Coed Baby Shower for Matt and Whitney Hobby
We are honored to celebrate
Their precious gift from God.
For they are double blessed
With TWO peas in their pod!
Join us in celebrating with Matt and Whitney as they
prepare their hearts and home for
Maisie Abigail
and
Eason Wyatt
Drive-through Shower
September 25, 2021
2:00-3:30 p.m.
First Baptist Church
Registry: https://www.babylist.com/baby-whitney-hobby
Additional ideas: diapers, wipes, bibs, baby bath towels and soap,
crib sheets, board books
SANCTUARY REMODELING
Due to the remodeling of the sanctuary, all worship services will be held in the fellowship hall. Reminder you can park on the Rainey Street lot to be closer to an entrance.
Giving as of September 15, 2021
Budget for 2021 . . . . . . . . $320,880.00
Tithes Needed to Date . . . . $228,314.42
Received to Date . . . . . . . . $185,264.56
Needed for weekly budget . . . $6,170.77
Tithes Received this week . . . $8,049.34
MID-WEEK DEVOTION
Don't forget to check out Brother David's Mid-Week Devotion on the book of Psalms. They are uploaded each Wednesday on the sermon page.
From our Family and Music Minister
We have all heard the saying, "Which came first, the chicken or the egg?" There cannot be chickens without eggs. But there cannot be eggs without chickens. They are pretty much a package deal. Aren't we glad God took care of creating the egg and the chicken, so we didn't have to worry about it? Faith and works go together like the chicken and the egg. One leads to the other, and the other leads to the one. Good works show true faith, and good works build a growing faith in true believers.
In James 2:14, and following, James said that faith without action is dead. There is no actual belief that has no action in a believer. James wanted his readers to understand fully that just having a head knowledge of Christ was not enough. Faith without action is meaningless, worthless, useless, and without any life.
An illustration that I have read that points this out so clearly is slicing a dime in half. If you cut a dime in half, the heads piece would have the bust of Franklin D. Roosevelt and be smooth on the other side. The tails slice would have the olive branch, torch, and oak branch on one side and be smooth on the other side. Would each piece be worth 5¢? No. Each would be worthless. Such is the case of faith without works. Without us allowing God to work through us to further His kingdom, faith is useless.
James points out in 2:19 that even the demons know who God is. They have an intellectual belief in God. A person can't simply claim to be a Christian. A person who truly believes will have a change in lifestyle. Columbus might not have been the first person to believe that the earth was round. But no one cares who first thought about it because they didn't do anything about it. It is one thing to say you believe your boat will not sail off the edge of the world. It is another to pull up your anchor and prove it. Faith in Christ is demonstrated by what you do, not simply by what you believe in your head. If the only evidence that you have faith in Christ is what you verbally declare, you might need to reevaluate your faith.
In verse 2:26, James finished this passage by comparing faith without works to a dead body no longer breathing. He could not give a better example. A person that only declares faith through intellectual beliefs and not through actions is dead. The teaching that we receive salvation by God's grace through faith in Christ is a clear New Testament teaching. James, in no way, is trying to contradict this teaching. James is merely trying to point out to new Christians that a mere intellectual acceptance of Christ does not lead to salvation. When a person has true faith, then the person will display good works. The two are inseparable. Our actions do not earn us favor with God, but they do prove that we have faith. Does your lifestyle match what you declare to believe? If you took a look at your life from the perspective of someone who just met you, would you say that your behavior reveals a true faith in God?

Sunday, September 19
Deacon of the Week: Dan Raines
Deacon Greeters
Front Door: Dan Raines
Organ Greeter: Allen Whitehead
Piano Greeter: David Flake
Sound: Daniel West
Video: Julie West
Nursery Workers
Elizabeth See & Peggy Black
Sunday, September 26
Deacon of the Week: David Flake
Deacon Greeters
Front Door: David Flake
Organ Greeter: Daniel West
Piano Greeter: Tony McCard
Sound: Daniel West
Video: Julie West
Nursery Worker
Shellie McRae & Dianne Huff