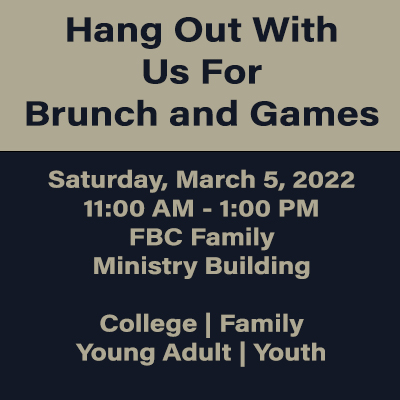 Make plans to join us as we get together for a late breakfast and to socialize. We will be meeting in the First Baptist Family Ministry building. This event is for all Families, Young Adults, College, and Youth. Everyone Is welcome; if you are looking for a church family, we would love to have you.
EASTER CHOIR
Attention all choir members and singers!!! We are getting together to prepare special music for Palm Sunday, April 10, during the morning worship service. If you are interested, please let Jonathan know.
MID-WEEK DEVOTION
Don't forget to check out Brother David's Mid-Week Devotion on the book of Psalms. They are uploaded each Wednesday on the sermon page.
Budget for 2022 . . . . . . . . $322,471.00
Tithes Needed to Date . . . . . $55,812.33
Received to Date . . . . . . . . . $35,735.96
Needed for weekly budget . . . $6,201.37
Tithes Received this week . . . $3,770.70
From our Family and Music Minister
Even if you don't follow sports, you would have to be living under a rock not to be aware of the success that some of the sports teams in Georgia have experienced this year. Weeks after the Georgia Bulldogs won the national championship, fans were still talking about it, buying commemorative memorabilia, and planning for the success of next year's season. Why do people get so wrapped up in a college team playing sports? I believe God has created us with the inner desire to be a part of a community, and through things like a common sports team, people can try to find that fulfillment.
However, we need more than just an arbitrary sports team to fulfill our desire for community. We need a close group of friends involved in our day-to-day lives. We read in Genesis, "Then the LORD God said, "It is not good that the man should be alone; I will make him a helper fit for him." From creation, God wanted us to have the support of others. If we look at scripture, I believe we can see the qualifications of a healthy community.
A Godly Community Encourages: When a sports team is on the field competing and exhausted, the fans cheering can encourage them and physically give them the strength to continue. Unfortunately, we will have times when we are down and feel like we cannot continue in our day-to-day life; a Godly community will immediately step in and encourage us and build us up. We read in Thessalonians, "Therefore encourage one another and build one another up, just as you are doing." As Christians, we need to be sensitive to others' need for encouragement and offer supportive words or actions.
Godly People Make Up A Good Community: When you build up your community and allow people to be a part of your close friends, make sure these people build you up and don't tear you down. Unfortunately, we live in a world full of people who constantly want to step on the weak and take a position of dominance. Fill your friend group with people who share the same Christian values and believe what you believe. Find friends who seek to elevate and encourage, and not tear down and discourage.
Paul wrote in 1 Corinthians, "Do not be deceived: bad company ruins good morals." Not only can bad company cause you to abandon your Christian values, but it can also hurt your witness to non-believers. As Christians, our testimony to the world should be a high priority in our lives.
A Godly Community Forgives: No doubt we are all human, and we will make mistakes; however, if we have a strong group of friends with whom we have built a strong relationship, we should be willing to forgive, and they should forgive us. Dwelling on an insignificant transgression will only make you bitter and unhappy. We read in Colossians 3:12-13, "Therefore, as God's chosen people, holy and dearly loved, clothe yourselves with compassion, kindness, humility, gentleness, and patience. Bear with each other and forgive one another if any of you has a grievance against someone. Forgive as the Lord forgave you." Simply put, we have been given far more forgiveness than we ever deserve.
I realize I have only scratched the surface of the amount of scripture we have concerning the benefits of community and how we should act around one another. I challenge you to invest in a close group of friends that support you and help you grow as a Christian. Make sure that your close group of friends are Christians. Scripture says, "Do not be yoked together with unbelievers." (2 Cor 6:14)  Also, strive to be that friend who is always willing to go the extra mile in offering forgiveness and peace. We must always strive to reflect Christ to the world and in our close relationships.

Sunday, March 6
Deacon of the Week: Daniel West
Deacon Greeters
Front Door: Daniel West
Organ Greeter: Dan Raines
Piano Greeter: Allen Whitehead
Sound: Chris McCard
Video: Saskia Van Son
Nursery Workers
Dianne Huff & Elizabeth See
Sunday, March 13
Deacon of the Week: Dwane Lewis
Deacon Greeters
Front Door: Dwane Lewis
Organ Greeter: Carl Hobbs
Piano Greeter: W. Greg Brown
Sound: Carl Hobbs
Video: Sue Mastrario
Nursery Workers
Eilene Perry
Samantha Mastrario