OPERATION CHRISTMAS CHILD
Our goal this year is to make 100 boxes. Help us reach this goal by helping us gather supplies for the boxes.For August, we will be collecting School Supplies. A box will be located in the front of the sanctuary and outside Nikki's office.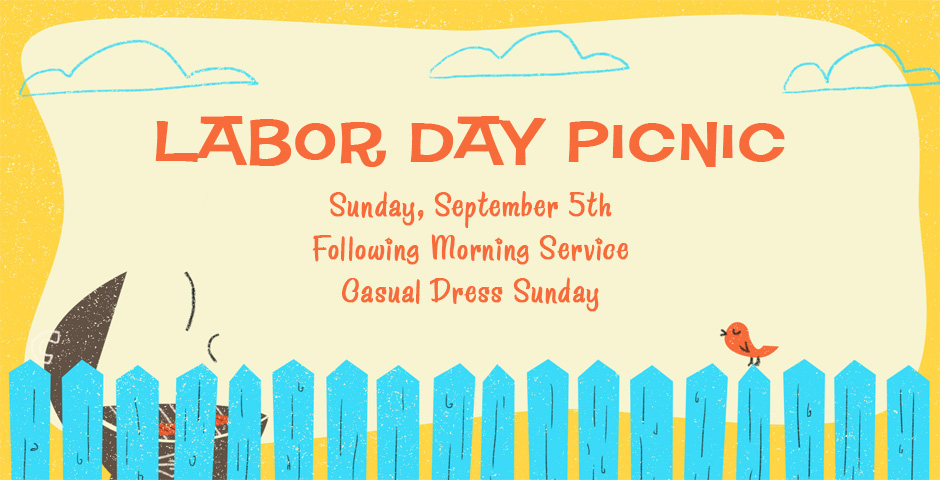 FREE BIBLE STUDY MATERIAL
On the table outside of Nikki's office are Bible Studies and Devotion books. These are studies we have received as samples from Lifeway and cover many topics. Please take as many as you want. We don't want to discard them if someone could use them.
MID-WEEK DEVOTION
Don't forget to check out Brother David's Mid-Week Devotion on the book of Psalms. They are uploaded each Wednesday on the sermon page.
THE Stand Starts Back
August 25, 2021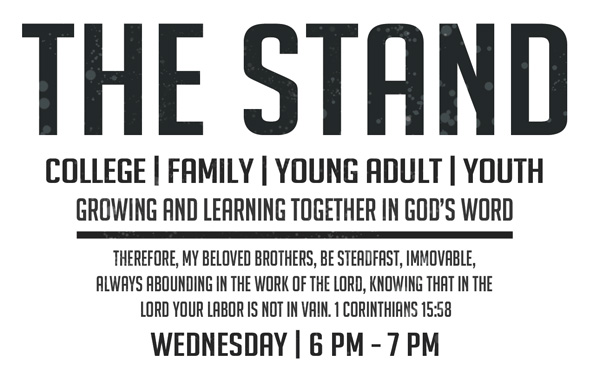 From Our Pastor
Child of God, you are personally, immeasurably, and eternally loved by God! The God who created all things and rules over all things has loved you from eternity past into eternity future. How this wonderful truth ought to completely change our lives!
The writer of Psalm 147 was bursting with praise for God as he contemplated the love that God showed His people. While the writer was speaking about Israel, the same principles apply to believers today. Everywhere we look we see evidence of God's love that should transform our living.
God's wonderful love for us is seen in the spiritual healing that He gives us. Verses 2-3 say, "The Lord builds up Jerusalem; He gathers the outcasts of Israel. He heals the brokenhearted and binds up their wounds." Believer, think about God's love for us in sending His Son to die for us (John 3:16, Romans 5:8). Contemplate His love in personally bringing us to salvation (Ephesians 1:4b-6). Consider that it is His love for us that motivates Him to restore us. These two verses in Psalm 147 actually describe God's restoration of His sinful people. God's love is seen in His wonderful spiritual healing.
God's incredible love for us is seen in the amazing fact that God delights in us. Verses 8-10a describe some of the things that God has made. The writer mentions the heavens, the weather, the wild animals, birds, horses. But what delights God? His people! Verse 11 says, "The Lord favors those who fear Him, those who wait for His lovingkindness."
Child of God, think about this beautiful, awesome creation in which we live. Isn't it amazing? God made everything from microscopic organisms to vast galaxies. Yet, you are what He loves! What an incredible thought!
God's love for us is also seen in the way He pours out His blessings upon us. The writer has already spoken of God's creation. What does God do with His creation? Verse 14 says, "He makes peace in your border; He satisfies you with the finest of the wheat." God uses His creation to bless His Children! Child of God, think of everything you have. All of it came from God out of His great love for you (James 1:17).
Last, we see God's love for us in revealing Himself to us. Verses 16-18 speak of God sending snow, frost, and ice. The writer then describes God melting them and causing the waters to flow. Amazing!
Yet, God's work of revealing Himself is even greater. Verses 19-20 says, "He declares His words to Jacob, His statutes and His ordinances to Israel. He has not dealt thus with any nation; and as His ordinances, they have not known him." What love! God wants us to know Him and His love for us.
Believer, the Father loves you with a love that is too great to comprehend. Absorb that truth and let it change your life today.

Sunday, August 15
Deacon of the Week: Tony McCard
Deacon Greeters
Front Door: Tony McCard
Organ Greeter: Tom LaRocca
Piano Greeter: David Mathis
Sound: Daniel West
Video: Julie West
Nursery Workers
Rachel Flake & Sandra Ellis
Sunday, August 22
Deacon of the Week: Allen Whitehead
Deacon Greeters
Front Door: Allen Whitehead
Organ Greeter: Dwane Lewis
Piano Greeter: Dan Raines
Sound: Daniel West
Video: Julie West
Nursery Worker
Charnelle Reinhardt & June Whiddon