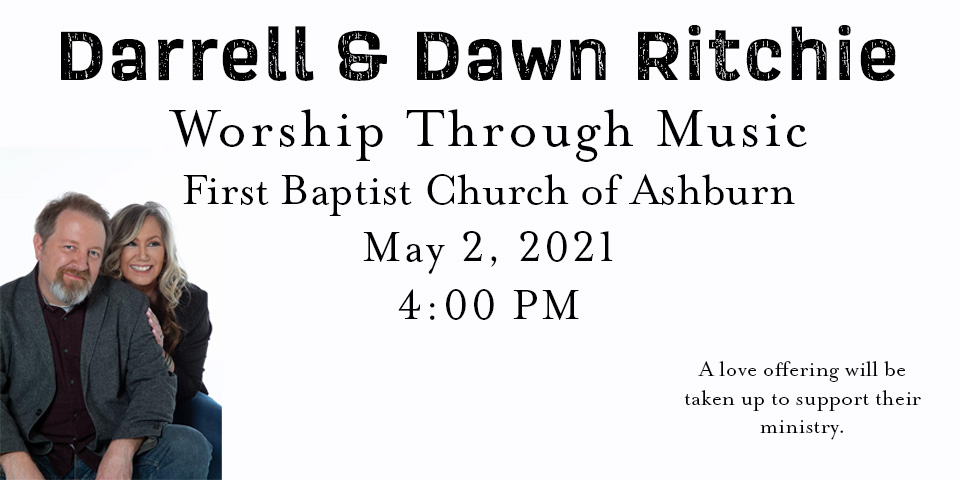 ​Every week the Ritchies set out on their mission to lift up the body of Christ and draw men to Him through testimony, authentic lyrics, and distinctive harmonies. In their unique calling, the duo journey from city-to-city, touching the hearts of people from all walks of life. "Wherever He leads us," says Darrell. Congregations are welcomed to join in faith, singing songs of praise, blended in an eclectic sound reminiscent of Nashville's country-blues scene that they describe as "Gospel Americana" .
Mission Opportunity
The Turner Baptist Association will be hosting a VBS at Rock Creek Baptist Church in Marianna, Fl. The association is putting together 96 backpacks to give away to the children who participate. First Baptist has volunteered to provide bath cloths, markers, and pencil sharpeners. Please leave the items outside the church office. We need to collect all of these items by May 30. If you have any questions, please see Vicki Brown or Jonathan.
Turner Associational Spring Meeting
The Quarterly Executive Committee/Brotherhood Meeting will be held Thursday, May 6, 2021, at Harmony Baptist Church.
6:30 Executive Committee Meeting
7:00 Meeting
No meal will be served.
MID-WEEK DEVOTION
Don't forget to check out Brother David's Mid-Week Devotion on the book of Psalms. They are uploaded each Wednesday on the sermon page.
Giving as of April 28, 2021
Budget for 2021 . . . . . . . . $320,880.00
Tithes Needed to Date . . . . $104,903.12
Received to Date . . . . . . . . . $75,195.79
Needed for weekly budget . . . $6,170.77
Tithes Received this week . . . $4,081.00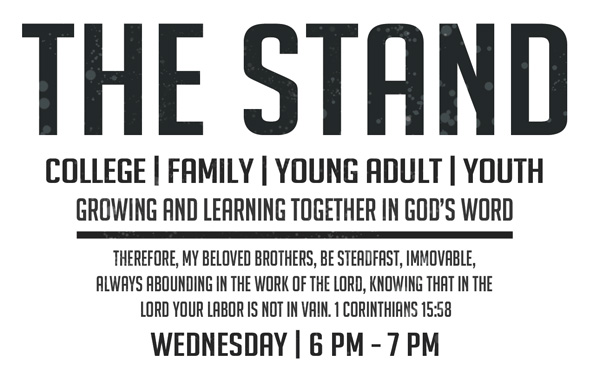 From our Family and Music MInister
Being a Christian doesn't mean we will always understand why God allows certain things to happen in our lives. Parents get divorced. Friends and family members pass away. Bad things happen. Even people that we are close to are going to disappoint us. But, our faith can provide a hope that God is always with us no matter what problems get in our way.

Even when things were at their worst for Joseph, son of Jacob, God was with him. God protected him from his brothers. When Joseph was taken as a slave to Egypt, he could have said, "This is it for me," but he remained faithful. God used him to save the life of others later on. It is awesome how God can take the evil actions of one person or group and use them to glorify His kingdom and to fulfill His plan. In life, when it seems the whole world is against us, we must remember that God is always there for us. His plan for us will ultimately prevail.

Throughout scripture, we have many examples of believers remaining faithful to God in hard times. A great example is Job, who lost all of his possessions, children, and wealth. Even though Job did not understand, he didn't lose faith in God. Just like Job, when we feel like we have nothing else left, we always have God. God is all we need.

Another example we have, and most of us should be familiar with this example, is the suffering of Paul. Paul suffered for his faith. Life was not always great for him, but he still encouraged others to remain strong in their faith even from prison walls.

God does not promise us that life will always be full of rainbows, but we know the outcome as Christians. God wins! If our lives are rooted in Christ, then the storms we face will not tear us down. We may not always see where His hand is leading us, but we know we can always trust His heart.