ANNIE ARMSTRONG EASTER OFFERING
CHURCH GOAL: $ 1500.00
GIVEN SO FAR: $ 700.00
Sunrise Service
MID-WEEK DEVOTION
Don't forget to check out Brother David's Mid-Week Devotion on the book of Psalms. They are uploaded each Wednesday on the sermon page.
Giving as of March 31, 2021
Budget for 2021 . . . . . . . .  $320,880.00
Tithes Needed to Date . . . . . $80,220.04
Received to Date . . . . . . . . .  $56,712.00
Needed for weekly budget . . . $6,170.77
Tithes Received this week . . .  $6,219.00
Starting April 14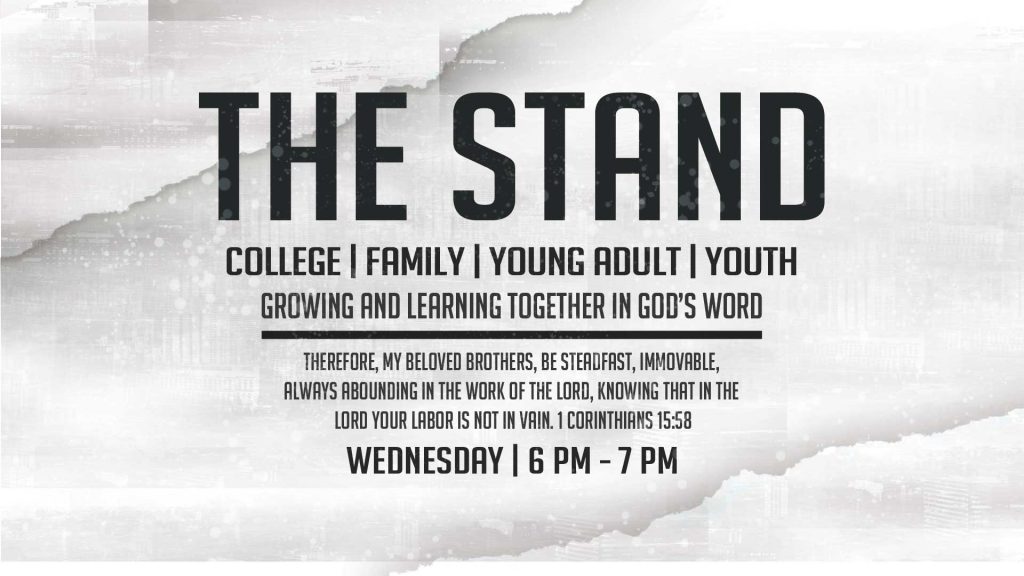 From Our Music and Family Minster
This past week I was working in my workshop, and I needed to use my drill press. I don't use this tool very often, but it is nice to have it on hand. As I pulled it off the shelf and set it up on my workbench, I noticed a little switch that I had not seen before. After some investigation, I realized that it cut on lasers that help you line up your work! What makes this more interesting is that I have owned this tool for more than 15 years and have struggled many times to line up my workpiece just on the right spot; instead of learning how to use this tool when I got it, I spent 15 years using it wrong and making it much more difficult to use. I can't tell you the amount of time I have wasted looking for other tools or strategies to make this tool more accessible.
As I thought about it, isn't that how most of us treat our relationship with Christ? We have all the resources and answers right in front of us, but we are either too apathetic to learn the absolute truth or we let a false idea lead us astray. A great example of this is in the way our culture teaches us to seek happiness.
The type of happiness the world teaches depends upon circumstances. Happiness ends when someone cuts us off in traffic or disagrees with us. The world's view of happiness is based on cause and effect. "If I could have this or do this, I would be the happiest person in the world." But how quickly does the happiness fade when someone lets you down or an inanimate object fades away?
Biblical happiness is not based on our circumstances. In scripture, Paul refers to it as "joy". Joy doesn't depend upon circumstances; instead, it is something that we choose. Having a humble spirit is one of the ways Paul gives us to find joy.
Do nothing from selfish ambition or conceit, but in humility count others more significant than yourselves. 4 Let each of you look not only to his interests, but also to the interests of others. Philippians 2:3-4
16 For where jealousy and selfish ambition exist, there will be disorder and every vile practice. James 3:16
4 Let each of you look not only to his own interests, but also to the interests of others Philippians 2:4
Taking an interest in others means looking beyond yourself. Don't just look out for your own financial affairs, your property, your own family, your health, or your education. We shouldn't just think about ourselves but look to others' success, encouragement, and happiness. Christ is the ultimate example of selflessness.
Jesus chose our interest over His own. He took the most humble place on a cruel cross with the most loving act ever shown in human history. This is the overwhelming grace and humility of Jesus Christ!
As we celebrate the Easter season, my prayer is that you continue to prioritize your relationship with Christ; and when you seek happiness in life that you find true joy in being a follower of Christ.
I spent 15 years using a tool incorrectly because I never took the time to understand it truly. Don't miss out on true happiness and fulfillment in life, because you're looking in all the wrong places.
13 May the God of hope fill you with all joy and peace in believing, so that by the power of the Holy Spirit you may abound in hope. Romans 15:13