OUTREACH BAGS FOR HALLOWEEN
The church will pass out goodie bags with our church information, plan of salvation, and candy during the annual Halloween open house in Ashburn.  If you or your Sunday school class would like to donate candy or money for supplies, please drop it off in Jonathan's office, or the round table in the fellowship hall, by Wednesday, October 12. 
---
Turner Baptist Associational Meeting and Children Home Truck Loading
Turner Baptist Association's Annual Fall Meeting will be held at First Baptist Church of Ashburn on Sunday, October 9, 2022.
Supper will be served 6:15-7:00 PM
Worship at 7:00 PM with Bro. Randy Mullinax will be the guest speaker.
The Baptist Children's Home trailer will be available for donations.
Items for Children's Home Trailer:
Barbeque Sauce, Salad Dressings, Bath/Kitchen Cleaners (non Aerosol), Baked Beans, Aluminum Foil (long rolls), Gift Cards will also be accepted
---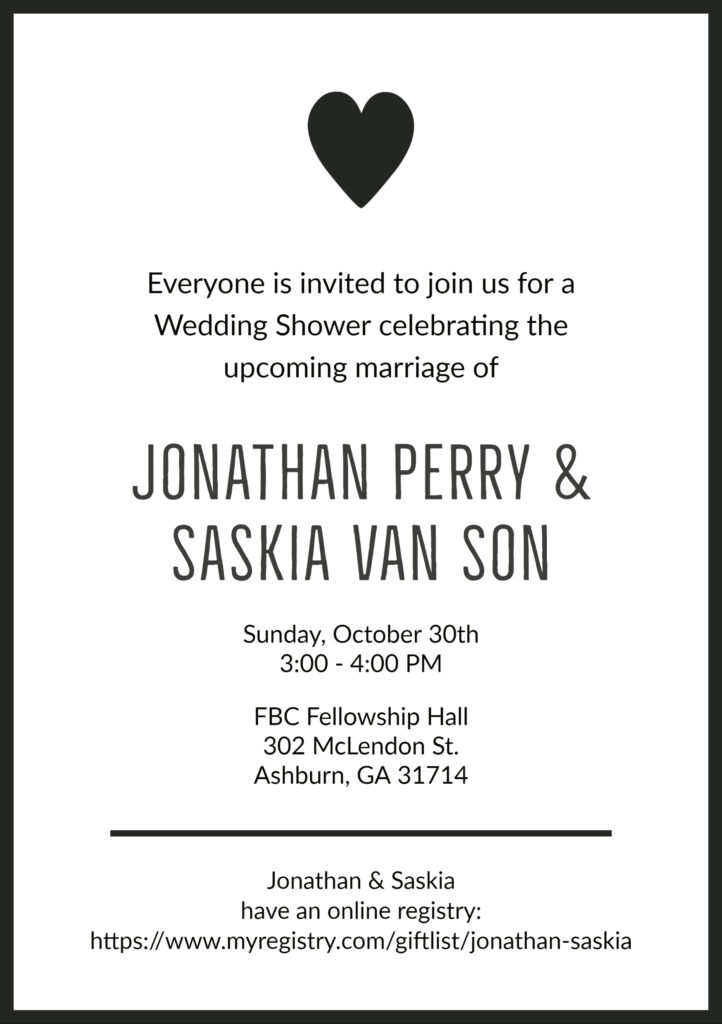 BUDGET PLANNING
All ministries need to have their budgets for next year turned in to Allen Whitehead, Brenda Lee, or Nikki Brewer by October 2.
MISSION GEORGIA OFFERING
Church Goal: $500.00
Received to Date: $500.00
MID-WEEK DEVOTION
Don't forget to check out Brother David's Mid-Week Devotion in the book of Psalms. They are uploaded each Wednesday on the sermon page.
Budget for 2022 . . . . . . . . $322,471.00
Tithes Needed to Date . . . . $241,850.43
Received to Date . . . . . . . . $219,361.59
Needed for weekly budget . . . $6,201.37
Tithes Received this week . . . $5,804.80
From Our Family and Music Minister
A pleasant Sunday can be relaxing, rejuvenating, or worshipful. Hopefully, as a Christian, you are taking the time to meet with God's people every Sunday. I have heard the analogy many times; there is nothing like having your gas tank filled once a week by meeting with fellow believers. This contact helps build and strengthen our faith to deal with our sinful culture. However, I believe even strong believers have to be aware of the pitfalls of worldly culture. Because no matter how much we love Sunday, Monday comes, and we return to work. Some believers may say that my job has nothing to do with my faith or even may excuse some unbiblical work practices because the job may require it. Instead, we should be equipping ourselves to deal with temptations and letting our faith integrate with our work.
First, our faith should change our motivation for work. In our culture today, people are prone to work, work, and work to provide for their families. But there is more to life than our job. Our job should not define who we are or be what gives us significance and identity. Neither should the money or success. We should always work as if we are working for the Lord. Colossians 3:23-24a says, "Whatever you do, work at it with all your heart, as working for the Lord, not for human masters, since you know that you will receive an inheritance from the Lord as a reward."
Second, our faith should provide high ethics for us as Christians in the workplace. We should always work with a high standard of integrity. Many things can be technically legal but Biblically immoral. This means as Christians, we should stay away from these things. Even if it means we may not make the profits we want or the promotion we think we deserve, we should remember that our integrity and our representation of Christ are more important.
Thirdly, our faith gives us the basis for rethinking how our type of work is done. Every vocation can be distorted by sin and idolatry. A Christian medical professional could see that some practice makes money for them but does not help the patient. Marketing, entertainment, and advertising jobs are better paid by those who release what the public wants. What the public wants is not always the best choice morally. We must be willing to do our job differently from others if we are in a work field that is predominantly worldly.
God promises that He will meet the needs of those who trust in Him. We must have faith that He will provide for our needs, not necessarily our wants. To remain strong in today's culture, we, as Christians, must constantly be growing in our faith. We also must rely on our faith to enable us to be light in a dark world in the workplace.
"And let us consider how to stir up one another to love and good works, not neglecting to meet together, as is the habit of some, but encouraging one another, and all the more as you see the Day drawing near." Hebrews 10:24-25

Sunday, October 2
Deacon of the Week: W. Greg Brown
Deacon Greeters
Front Door: W. Greg Brown
Organ Greeter: Dan Raines
Piano Greeter: David Flake
Sound: Chris McCard
Video: Saskia Van Son
Nursery Workers
Sandra Ellis & Rachel Flake
Sunday, October 9
Deacon of the Week: Dan Raines
Deacon Greeters
Front Door: Dan Raines
Organ Greeter: Carl Hobbs
Piano Greeter: Dwane Lewis
Sound: Carl Hobbs
Video: Sue Mastrario
Nursery Workers
Charnelle Reinhardt & June Whiddon