Operation Christmas Child Report
We want to offer a special thank you to everyone who helped with the Relay Center. We sent 563 shoeboxes from the Turner area to the mission field. Please be in prayer for these boxes to minister to the children who receive the box and the children's families.
---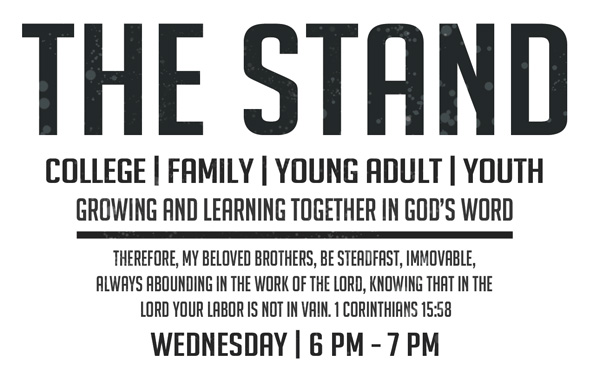 Wednesday, December 1 | Regular Night
Wednesday, December 8 |Christmas Party
Meet in the Family Ministry Building
January 12, 2022 | Resume The Stand
Plan now to make Worship on Wednesday a regular part of your week.
CHRISTMAS CHOIR
If you love to sing and enjoy praising your Savior, we would love to have you sing a few songs with us for Christmas. If you are interested, please see Jonathan.
Practice in the fellowship hall.
Wednesday, December 1, 7:00-7:30
Wednesday, December 8, 7:00-7:30
Wednesday, December 15, 6:00-7:00
We Will Sing: Sunday, December 19, during the morning worship service.
MID-WEEK DEVOTION
Don't forget to check out Brother David's Mid-Week Devotion on the book of Psalms. They are uploaded each Wednesday on the sermon page.
Budget for 2021 . . . . . . . . $320,880.00
Tithes Needed to Date . . . . $290,022.12
Received to Date . . . . . . . . $226,666.93
Needed for weekly budget . . . $6,170.77
Tithes Received this week . . . $2,143.50
Harvest Banquet – $18,616.00
From our Family and Music Minister
Jesus is not only our Savior; He was a great teacher who knew how to reach people. Jesus met people at their point of need. He did not try to teach them about His Father until He showed them that He genuinely cared for them and was sympathetic to their current condition. Jesus met immediate needs by turning water into wine and feeding the five thousand, but he also took the time to meet the emotional needs of people.
Zacchaeus was a crooked tax collector despised by his fellow citizens. He was an upper-class social outcast. One day, Zacchaeus heard Jesus was coming his way. Being a short man, he climbed up a tree to see Jesus coming. When Jesus reached Zacchaeus, Jesus came over and talked to him. Jesus told Zacchaeus that He, the very man everyone had crowded the streets to see, was coming to his house. Jesus did not approach him with retribution; He approached him with love. Jesus fulfilled his need of being accepted and having a friend and told Zacchaeus about God's love.
We can see another example of Jesus meeting someone's need by how He treated the woman at the well. He could have approached her and confronted her with her sin. He could have told her she would go to Hell if she didn't repent of her sins. Instead, Jesus again responded with love. Jesus asked her for a drink of water. He looked past the fact that she was part of a race considered inferior. Jesus saw a human being that was hurting emotionally and had a desire just to be loved. He took the time to show her that love.
Every person that we come in contact with, we treat in one of two ways. One way is putting up an imaginary wall while making no effort to get to know them. We may even go to the extent of trying to ignore or avoid them. The other way is that we can choose to build a bridge to that person. Bridge building is not always easy and can come with obstacles. We may have to build a bridge over social class, race, economic standing, and even past hurts; however, the benefit of a completed bridge always outweighs the cost.
Jesus was the most remarkable bridge builder. As Christians, bridge-building should be our desire for ourselves and our church. We should have a desire to build bridges with the community around us. Of course, we will meet obstacles, but God is greater than any obstacle.
During the holiday season, you will most likely come into contact with family members who don't know Christ as Savior. Undoubtedly, these people can be the hardest to reach. But our desire to see them in Heaven one day should far outweigh the uncomfortable feeling you might get by talking with them. Also, as you spend time with your family, strive always to be a reflection of Christ. They should know that there is something different about you through the love you show to others. And, of course, that includes the facial expressions you might express when that not-so-favorite relative walks into the room.
I pray that you will have a deep desire to build bridges with your lost family and community. Bridges take many skilled workers to complete. A bridge is only completed when skilled workers work together to achieve it with their individual, unique skills. As a Christian, I hope you choose to be a builder of bridges, not a builder of walls.

Sunday, November 28
Deacon of the Week: Tony McCard
Deacon Greeters
Front Door: Tony McCard
Organ Greeter: Allen Whitehead
Piano Greeter: David Flake
Sound: Daniel West
Video: Julie West
Nursery Workers
Eilene Perry & Saskia Van Son
Sunday, December 5
Deacon of the Week: Shawn McRae
Deacon Greeters
Front Door: Shawn McRae
Organ Greeter: Daniel West
Piano Greeter: Tony McCard
Sound: Chris McCard
Video: Saskia Van Son
Nursery Worker
Rachel Flake & Sandra Ellis