Operation Christmas Child
To prepare for Operation Christmas Child, we are going to start gathering items year-round.  This will help us focus each month on specific items and keep us from collecting everything at once. For March, we will be collecting toothbrushes/toothbrush holders. A box will be located in the front of the sanctuary and outside Nikki's office.
ANNIE ARMSTRONG EASTER OFFERING
Annie Armstrong was born in Baltimore at a time when women were not expected to lead. She served challenged churches to action and rallied support for missionaries. Ultimately, Annie was recognized as a national Southern Baptist trailblazer renowned for visionary missions leadership.
Contributions
Started Bay View Mission for Baltimore's poor and addicted
Served as the first executive of Woman's Missionary Union
Raised support for missionaries to Italian and Jewish immigrants
Initiated fund-raising "brick cards" to build churches in Cuba
Gained support for the first black, female missionaries
Secured funds to relieve China missionary, Lottie Moon, who had served for 11 years without a furlough
Advocated for Native Americans and impoverished mountain people
Traveled across America in the late 1800s encouraging missionaries and inspiring churches to pray, give and act
Honored in 1934 when The Home Missions Offering was re-named for her to encourage more to follow her sacrificial example
Today, over $1 billion has been given through the Annie Armstrong
Easter Offering®. All gifts—100%—support thousands of missionaries in
church planting and compassion ministries across the U.S. and Canada.
CHURCH GOAL: $ 1500.00
GIVEN SO FAR: $ 220.00
MID-WEEK DEVOTION
Don't forget to check out Brother David's Mid-Week Devotion on the book of Psalms. They are uploaded each Wednesday on the sermon page.
Giving as of March 17, 2021
Budget for 2021 . . . . . . . .  $320,880.00
Tithes Needed to Date . . . . . $67,878.50
Received to Date . . . . . . . . .  $48,402.35
Needed for weekly budget . . . $6,170.77
Tithes Received this week . . .  $3,839.00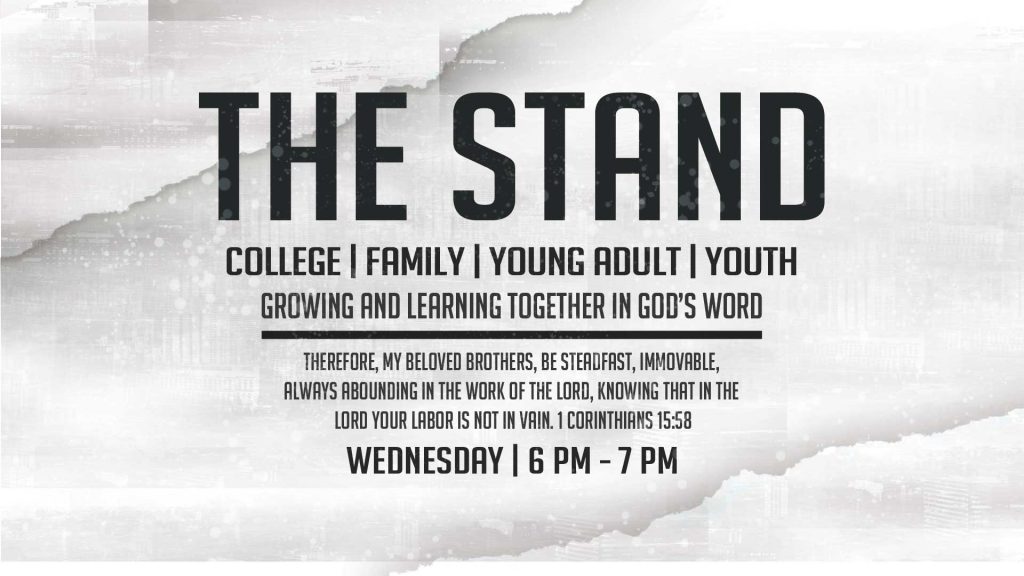 Starting: April 14, 2021
What is "The Stand?"
"The Stand" is a new family ministry that will begin on Wednesday nights. We will start each night in the Fellowship Hall and have Bible study as a family group. As we continue, our goal will be to continue family group Bible study each time we meet, and then different groups will break off to dive deeper into the nightly scripture with age-appropriate material. This will currently take the place of what was Team-Kid and Youth/College activities.
Is it for more than just families?
YES. Anyone is welcome to join us each week for Bible study. The study is designed for people of all ages, even though we will be focusing on young adults and families. We want young people to see their parents studying scripture and putting importance on weekly Bible study. However, it is just as crucial for college students, youth, and children to see church members in the same light. Our goal is for this to become a time of growth and mentorship for members of our church.
When and at what time will we meet?
Beginning April 14th, we will meet each Wednesday night from 6:00 PM – 7:00 PM in the fellowship hall.
What about COVID 19?
Each week, we will continue to watch the spread of the virus. Any workers or assistants will have access to masks if they need them. The benefit of meeting in the fellowship hall is our ability to spread out. We will also have hand sanitizer at multiple spots in the building. If any changes need to be made due to COVID, we will make them as we go along.
Who will be teaching?
Jonathan will be teaching the main study each week. As we progress and grow, different volunteers will oversee age-appropriate break-out-groups.
Tell me more about the topics we will cover.
As we see our world moving further away from a Godly world view, it is more important than ever that we know what our Creator taught us. We will learn what it looks like to take a stand for Christ in today's culture. We will learn that we cannot just live as Christian; we must live as Disciples of Christ.
We have chosen 1Corinthians 15:58 as our key verse:
Therefore, my beloved brothers, be steadfast, immovable, always abounding in the work of the Lord, knowing that in the Lord your labor is not in vain. 1 Corinthians 15:58
In our first series of studies, we will break this verse down and see what it truly means to be steadfast and immovable. Not only will we be looking at what it means to be abounding in the work of the Lord, but we will come up with ways we can do it as a group. Our goal will be to live out James 1:22, where we are not "only hearers of the Word but doers of the Word."