Join archeologist and adventurer Colorado Smith as he seeks to unravel the mystery of the Puzzling Pyramids with the aid of some very helpful Egyptian animals he meets along the way. Colorado doesn't know much about the life of Moses, but he thinks there is a great treasure to be found if he can piece together the clues in Moses' life. This ancient Egypt-themed VBS will have kids learning about the early life of Moses and how God used him to help the Israelites escape their Egyptian slavery and, ultimately how we can escape from our slavery to sin.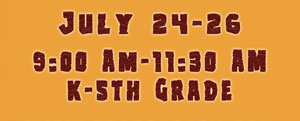 We will meet for this Great Escape in our Family Ministry Building.
To help us prepare, please register your child below.

"And we know that in all things God works for the good of those who love him, who have been called according to his purpose."

Romans 8:28